About the Practice
Chenoweth Animal Hospital has been serving the veterinary needs of St. Matthews and surrounding communities since 1985. We were founded by Dr. Ann T. Nevils,a 1981 graduate of Auburn University College of Veterinary Medicine.
Location
Chenoweth Animal Hospital is located at 3624 Frankfort Avenue, Louisville, Ky. This is on the corner of Frankfort Avenue and Bauer Avenue in St. Matthews. We are across from the Masonic Home.
Fees
Fees charged for services are based on the support needed to maintain the high quality of care we are proud to provide. Payment is requested at the time service is rendered.
For your convenience, we accept Visa, Mastercard, Discover, American Express and CareCredit.
Pharmacy Home Delivery
Chenoweth Animal Hospital is pleased to offer an online pharmacy home delivery service with competitive internet pricing. This pharmacy is FDA approved and allows you to manage delivery and "remind me" options from home.
ePet Health
Sign up now to get online access to your pet's health information, free of charge! Use your private pet health website to:
Manage your pet's health care
View medication schedules
Communicate with us online
Learn more about your pet's individual health and life-stage issues
We have an App!
This app is designed for iPhone®, iPad®, and Android®, and is designed to provide extended care for our patients and clients.
Click the appropriate button and download.

Moving to a Fear Free Practice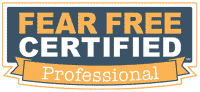 Fear Free provides online and in-person education to veterinary professionals, the pet professional community, and pet owners.
Founded by America's Veterinarian,Dr. Marty Becker, Fear Free has become one of the single most transformative initiatives in the history of companion animal practice, with over 13,000 veterinary professionals committed to becoming Fear Free certified.
Flea and Tick Protection for Dogs and Cats
Dogs
BRAVECTO®is the ONLY oral chew to deliver flea and tick protection to dogs for up to 12 full weeks. And since this long-lasting protection comes in 1 simple-to-administer chew, it's easy for owners to keep their pets protected.
Cats
BRAVECTO®is now available for cats as a topical protection.
Find out more at: https://us.bravecto.com/
Six Months of Heartworm Protection
ProHeart®6 (moxidectin) is the only injection that provides 6 full months of continuous heartworm protection in a single dose. Just a simple trip to your veterinarian is all you'll need to give your best friend extended protection from heartworm disease.
Find out more at: www.proheart6.com/
Companion Therapy Laser – the Alternative to Pharmaceuticals
Companion Therapy Laser Treatment can be used to treat:
Arthritis
Hip dysplasia
Skin conditions
Post surgical pain relief
Otitis
Wound healing
Degenerative joint disease
Gingivitis
Insect bites/stings
Lacerations/abrasions
Cystitis
Burns
And more...
Find out more at: www.companionanimalhealth.com