Chenoweth Animal Hospital
Veterinarians serving St. Matthews and east Louisville, KY since 1985
COVID-19 Hospital Update
We are grateful as health professionals being able to be open and care for your pets during this time of uncertainty. However, this does put our doctors and staff on the front lines. We have implemented a new strategy that encourages social distancing.
When you arrive for your appointment, please stay in your car and call us and let us know you have arrived.
Our staff will obtain a history over the phone and then come out to you to bring your pet into the hospital for the doctor's exam.
We will then communicate with you, take payment over the phone and bring your pet back to you.
Please be sure all dogs have a leash on and all cats are in carriers for their safety.
The same protocol is in place for picking up supplies and medications
We want to be able to stay open and care for your furry family members for as long as possible but that does include limiting exposure to doctors and staff. We thank everyone for their cooperation.
Please call us, text us, email us with any questions you may have.
Tips for a Stress Free Visit
We strive to make sure each pet visit is Fear Free. When you are scheduling an appointment, please inform us if your pet suffers from stress or anxiety so we can make any necessary adjustments prior to arrival.
Pheromones
Pheromones such as Adaptil (dogs) and Feliway (cats) https://www.ceva.com/en/Products/Companion-animals/Behaviour are products that can help to calm your pet prior to arrival at the hospital. We offers pretreated bandanas for dogs and towels for cats that you are free to use during your visit and provide diffusers in the hospital as well. Sprays and diffusers are available for purchase at the hospital.
It is best if you can start using the pheromones at home prior to the car ride. Be sure to treat carriers with pheromones before putting your cat in to help alleviate any anxiety. Having your cat carrier out in the house with anytime access will help your cat get used to the carrier. Providing a soft bed and feeding treats will also help them associate positive experiences with the carrier.
Treats
Food can be a very positive experience for our patients! We give lots of treats to help reduce anxiety during visits – especially for those pets who dislike nail trims! We ask that you withhold food before your visit so that your pet is more likely to accept a treat while in the office and will associate the visit with a positive experience.
You may bring along your favorite treats from home or we have many different varieties as well. Please let us know ahead of time if your pet has any food allergies. If your pet has a favorite toy, please bring it along too!
---
Moving to a Fear Free Practice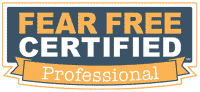 Fear Free provides online and in-person education to veterinary professionals, the pet professional community, and pet owners.
Founded by America's Veterinarian, Dr. Marty Becker, Fear Free has become one of the single most transformative initiatives in the history of companion animal practice, with over 13,000 veterinary professionals committed to becoming Fear Free certified.
---
Fear Free Happy Homes
Prepare for your vet visit
Fear Free Happy Homes has a section of downloadable handouts to provide you with the information that will make your next vet visit Fear Free.
We have an Online Pharmacy!
---
We have an App!
This app is designed for iPhone®, iPad®, and Android®, and is designed to provide extended care for our patients and clients.
Click the appropriate button and download.
---
Donate to the AVMF Veterinary Care Charitable Fund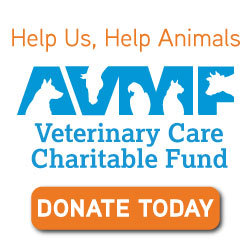 Through the American Veterinary Medical Foundation's Veterinary Care Charitable Fund, our hospital is able to help animals rescued from abuse and neglect and the pets of clients facing personal hardships. Your donations to the AVMF on behalf of our hospital will help us help animals. Click on the AVMF donate button to make your tax deductible donation.
---
See more in Pet Health »